Timber Garage | Sectional timber double garage
Sectional Timber Double Garage Timber Garage
Timber Garage Model: SK-DGARAGE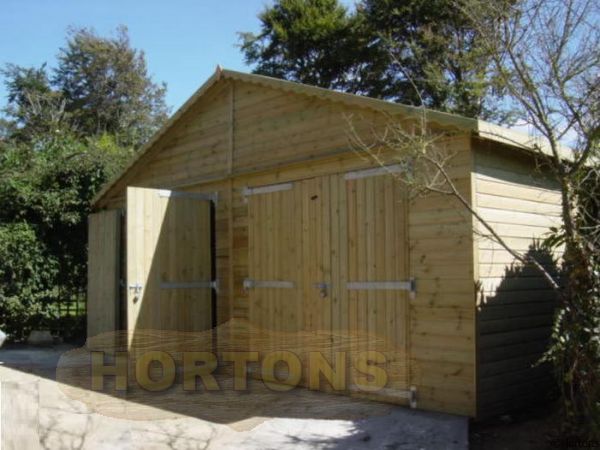 Click images For Enlarged View
Available Now For Call For Price
Double Sectional Garage

This garage is very strong (4"x2" framework with diagonally braced corners) and heavy duty roof construction.

It is supplied lined with a moisture-proof breather membrane (as used in house building) to keep the damp out by forming a vapour barrier and can easily be fully insulated for warmth.

Windows and doors can be added to suit your own layout design.

Tongue and groove roof cladding
Extra strong roof framework
Trussed roof
Extra strong wall framework (50mm x 95mm timber) with diagonal bracing
PROTECT TF200 breather lining paper (vapour barrier)
Tanalised redwood shiplap cladding
Heavy duty side hung garage doors (79" high x 84" wide)
Heavy Duty Green Mineral Felt
Galvanised door furniture including, Cranked hook & band heavy duty hinges & padbolt
Stainless steel nails
100% pressure treated throughout - roof, walls and doors.
Building size required
Please choose
18x18ft £6,534.00
18x20ft £7,223.70
20x20ft £7,852.90
Door hinge orientation
Change door to right hand hinged (option)
Door hinged on left hand side, viewed from outside (standard)
Extra opening windows
1 extra 610 x 610mm opening window £48.40
2 extra 610 x 610mm opening windows £96.80
3 extra 610 x 610mm opening windows £145.20
Extra fixed windows
1 extra 610 x 610mm window £36.30
2 extra 610 x 610mm fixed windows £72.60
3 extra 610x610mm fixed windows £108.90
Colour of breathable membrane lining paper
Black £108.90
Blue £108.90
Green £108.90
Red £108.90
Extra doors
Extra standard 27" wide shed door £60.50
Extra 30" wide shed door £114.95
Extra pair of shed doors £121.00
Extra heavy duty door, cranked hinges & padbolt £121.00
Mains connection can be quoted for separately
4 Twin sockets, 1.2m tube light , switch & RCD unit £723.58
Security grilles
1 required £35.09
2 required £70.18
3 required £105.27
4 required £140.36
Replace standard toughened glass with perspex (free option)
Required
Base options for sheds
Please contact us for details
Felt shingles
Required for 18' x 18' building £1,176.12
Required for 18' x 20' building £1,306.80
Required for 20' x 20' building £1,452.00
Free delivery/installation area
Charges may apply outside this map, please ask for details
---
All Prices Quoted include VAT at 20.0%